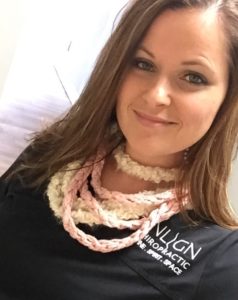 Academic Details:
I am Dr. Kimberly Minick, DC.  Mostly everyone just calls me Dr. Kim.  I have a  Bachelor's degree in Exercise Science and a Doctorate of Chiropractic. All of my 20 hours/year of post-grad education is in clinical nutrition (also known as functional medicine), biomechanics, and emotional health.  Epigenetics is also the most amazing field of study– the science of changing genetic expression through lifestyle.  Totally.  Empowering.  To know you can change your thoughts, your diet, and the way you move to TURN OFF disease genes–OMGoodness!!!  Doesn't get any better than that.  I get excited just thinking about it!!
I have a genuine love and respect for human anatomy and physiology, can you tell?  I fully believe that God created the most complicated beautifully interconnected organism when he created the human body. I also firmly hold that viewing the body as parts and not as a whole is the single biggest downfall of current American healthcare. All systems of the body are interconnected and to isolate a single system is to ignore the Creator's vitalistic, wholistic masterpiece.  To isolate treatment of chronic problems to a single organ is to woefully neglect the physiology of the body.  It will only create long-term problems.
Personal Touch:
I am wife to a truly incredible man Keith, and mom to four wonderful boys: Aiden, Kipton, Everett, and Finn.  There's a good chance you'll meet 3 of these kiddos in the office.  Everett is our direct connection to heaven.  Every year you'll notice I'm closed on May 31st.  It's the day we met him and the day he met Jesus.  Everett made our family realize just how important the right priorities are.  His short little life brought us intense introspection that has led both Keith and me to doubt, fear, guilt, and then back to hope, peace, and the pursuit of a joyful, generous life.  We try daily to give up chasing the Jones' and attempt to run in the other direction: toward simplicity, respecting others with love, and less stress.
People are my passion.  My life's purpose is to connect deeply with people, I put that to work in my office.  It truly is my hope to serve you well, helping you to make radical life changes that lead to abundantly healthy FLOURISHING lives– that will impact generations to come.
Office Impact:
I am NOT a doctor that sees a ton of people, each one for 3-4 minutes, tops.  I can't wrap my brain around how that helps heal the body– not in the most complete way possible, at least.  I operate my office with a VALUE > VOLUME model.  It might cost you more than your $20 chiro, but I guarantee your experience here will be worth it.  You are not a number in my office.  You are a person.  With a family.  And a life.  It is my intention to know more than your aches and pain and subluxations– for the subluxations come from somewhere, and often it isn't just your (terrible) posture.  If that's not your desire for a doctor, then I'm not your girl.
As a wife, mom, business owner, and doctor, I make my hours based on what works for our family.  That can be a pain for you.  I own that.  But I only get one life. One shot at being a wife, a mom, a friend, a doctor.  I want to keep all that in balance.
Much love to you.  I hope to meet you soon.